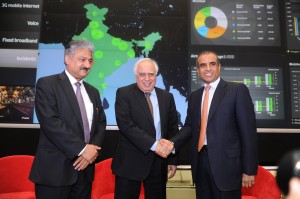 India's Leading Telecommunications Giant attained yet another benchmark in the Indian Telecom sector as it inaugurated the first of its kind facility in India to monitor Airtel's networks spanning Mobile, DSL Broadband, M-Commerce, DTH, Enterprise Services, International Cables across its India and South Asia operations from a single location. The Center is an Earthquake proof facility designed specifically to serve as a national command center in case of emergencies and natural disasters.
This Network Operations Center can Monitor, Airtel's nearly 6 million voice and over 5 million data customers, concurrently. 600 switching and routing centers process 80 Billion minutes of voice and 24 Petabytes of data traffic every month
The NEC houses one of the biggest video walls in the world with 3600 square feet of solid state LED screen to monitor Airtel's telecom network. The clear span of the roof is 49 meters by 18 meters and the beams have been specially designed to hold the structure without columns. These beams are fireproof and about 8 feet deep. Designed specifically to be used as a command center in case of national emergencies and natural catastrophe, the earthquake proof facility also provides for a single control of command, and a fully redundant technology layout.
Bharti Airtel Founder CEO Mr. Sunil Mittal who spoke on the occasion told us,
Over the years, Airtel has been at the forefront of deploying the best technology to bring a world-class offering to customers. This new facility, sets the benchmark for telecom in South Asia, and will help us manage the layers of complex networks and technologies across our product matrix and massive scale of operations. Essentially, we will be able to analyze and deliver a seamless experience to over 200 million customers across our verticals from one location. In particular, this facility positions us to manage the expected surge in data usage on our 3G and 4G networks in years to come and deliver best-in-class experience to our customers
Airtel India and South Asia have 160,000 sites (2G,3G& 4G), through 150,000 kms of optical backbone, via 75,000 kms of undersea cable system and connects customers globally.