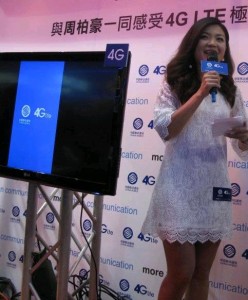 China Mobile Hong Kong (a subsidiary of China Mobile) launched TD-LTE (4G) commercial service in Hong Kong. It may be noted that China Mobile Hong Kong is already offering FDD LTE 4G commercial service at 2600 MHz since late April of this year.
At the press briefing, China Mobile Hong Kong unveiled one handset, one MiFi and one data card that will work on the TD-LTE network in Hong Kong. China Mobile Hong Kong's retail stores offers 9 different handset models that work on its FDD LTE network in Hong Kong. A majority of FDD LTE handsets come from foreign brands (e.g., Samsung, HTC). The TD-LTE handset model to be initially offered by China Mobile Hong Kong is from domestic brand ZTE. We believe it may take another 6-12 months before we see more variety of TD-LTE handset models
4G LTE Data Cards, MiFi, CPE, etc
Like Airtel in India, China Mobile's FDD LTE based Data Card Supports 800/1800/2100/2600 i.e GPRS, 3G UMTS and 4G.
Data card are provided by Huawei, Alcatel, Asiatelco, Hisense, PrimeMobi, Dafu
MIFI devices are manufactured by Sunnada, UT, ZTE, Huawei, Alcatel, Datang, PrimeMobi, Yulong, Dafu
CPE [Customer Premises Equipment] PrimeMobi, Dafu, Alcatel, ZTE, Asiatelco, Innofidei
CSFB [Circuit Switch Fall Back] Samsung, ZTE, Huawei
Dual Mode 4G LTE Network
With Network gear from both ZTE and Ericsson, China Mobile has successfully deployed Dual Mode LTE (TD & FDD).
4G Data Subscription fees in Hong Kong
Regardless of a subscriber using FDD LTE or TD-LTE service, China Mobile Hong Kong charges the same monthly tariffs.
Monthly Fee 108 HKD – 500 MB Data and 1,600 Min of Voice
Monthly Fee 148 HKD – 1000 MB Data and 2,500 Min of Voice
Monthly Fee 188 HKD – Unlimited Data and 3,800 Min of Voice
The Average Data Consumption per user / month is 667 MB in Hong Kong.
Speedtest of 4G TD-LTE Vs FDD-LTE Network
The following Screenshot shows the 4G Speedtest of China Mobile's Dual Network Side by Side for comaprison.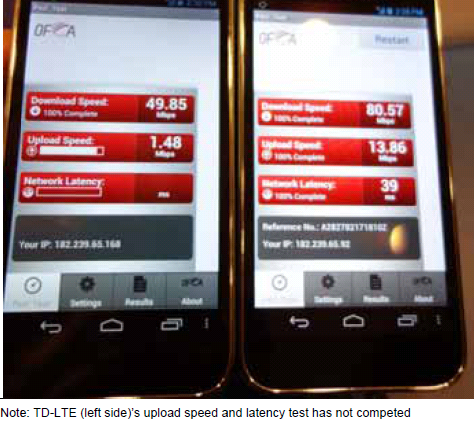 You can observe slower network download speed of TD-LTE vs. FDD-LTE (37.5% slower), which may imply slower maturity of the TD LTE handset platform or network performance issues. As well, the current TD-LTE smartphone is still too expensive (above USD300) in our view, compared with the volume zone of China smartphone market.