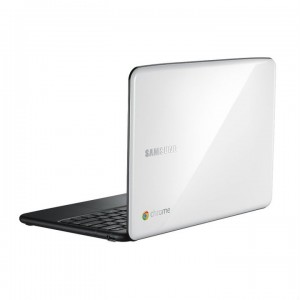 The flood of devices such as Chrome Book, Tablets, etc have threatened the survival of traditional PC / Laptop manufacturers such as Dell, HP, etc. This is evident from the Sales Report of Online Retailer Amazon.com over the last 1 month dominated by Tablets. Even in the PC / Laptops segment, the hottest selling products were Mac and Samsung ChromeBook. They also face challenge from smart phones and they may need to make acquisitions at a rapid pace to stem the declines. Let us see how Dell is trying to combat the slowdown.
The rapid decline in Dell's PC sales may soon have a delayed impact on its highly profitable maintenance services revenue. While the company's PC units and revenues have declined rapidly of late – Dell's PC maintenance business has actually defied expectations and grown over the last 3 quarters due to a focus on higher attach rates.
PC Maintenance / Service Billing Rescues Dell – The PC maintenance stream has been growing in the mid single digit range for the last year as Dell has focused on driving attach rates for high-margin support services to make up for declines in other businesses. Typically these support deals are 3-year contracts and we estimate that this type of business carries gross margins of 60%+ with operating margins in the mid 30% range. As a result, the PC maintenance stream for Dell accounts for about 30% of total earnings, which is much higher than most investors realize since Dell places maintenance within its Enterprise Solutions Segment.
With the decline of PC's & peripherals and the potential future proportional impact on maintenance / support, the challenge for Dell has been and will be to ramp its enterprise related hardware, services and software businesses fast enough to compensate for the loss. To mitigate this risk, Dell cleverly adopted an Acquisition Strategy is clearly aimed at diversifying away from PCs and we believe the company is likely to remain acquisitive in areas that offer more positive growth and margin prospects. To that end, Dell has already acquired 17 businesses worth more than $5 billion in total revenue the last three years.
Here is a list of all the Companies Acquired by DELL which have significantly higher margins than DELL's PC hardware business.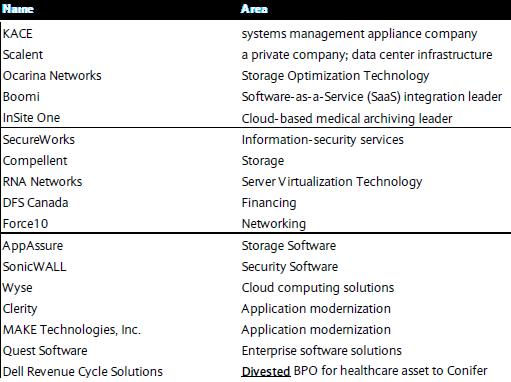 The PC market is undergoing rapid change – from what we call Disruptive Mobility. Dell will see see challenges mount from tablets and smart phones and the company may need to make acquisitions at a much more rapid rate to stem the decline and mark its presence with premium class mobile hardware and support services.