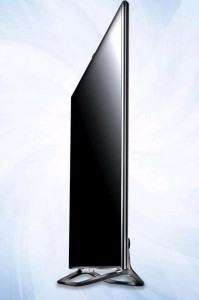 Apple put itself on the road to innovation with iPods is known for designing products that have WoW factor. Apple has historically tested products for significant periods (note there were rumors of a tablet for a couple of years before it launched). Apple has an unmtached ability to create better user experience with a tightly integrated ecosystem.
Apple's potential entry into TVs with the launch of iTV next year would be consistent with its track record of entering an existing market with a different value proposition and user experience (e.g. iTunes Music Store, iPhone, iPad, iBooks Textbooks).
However, there is one difference, the TV hardware market is less favorable than the markets Apple has previously entered or created historically. The growth prospects for the TV hardware market to be less attractive than those for the mobile computing market (smartphones, notebooks and tablets). From revenue perspective, the TV hardware industry generated ~$115 billion in revenue in 2011, with LCD TVs representing ~90% of revenue.
Apple may find it more challenging to generate profit in the TV hardware market. Overall profitability for the industry remains poor due to heavy capital intensity, commoditization and oversupply, with operating margin at most market leaders near breakeven and some posting operating losses. However, similar to the iPhone and the iPad, tight integration of Apple's software and services with its hardware, combined with premium pricing, should enable Apple to realize healthier margins than the industry participants today.
So what new features can one expect on iTV like Siri on iPhone ?
We've seen that Strong software features (iOS, FaceTime, Siri, etc.) led to the success of iPhones. Similarly media content (TV shows, movies, apps) are necessary to drive incremental demand for the device in this highly saturated / commoditized market and support premium pricing and margin. The depth and breadth of media content available on the platform, as well as ease of access and payment, will be especially important for the iTV.
The iTunes Store is the undisputed market leader in digital media distribution. However, the global availability of TV shows remains limited today. Apple will need to build a media platform that covers a substantial portion of media created / consumed worldwide.
iTV initial Focus on Americas & Europe
We expect that iTV will initially focus on key developed markets, likely the U.S, Canada, the U.K, France, and Germany, similar to the launch of the original iPhone. International rollouts of the iTV could be more gradual and/or limited compared to other Apple products due to the similar reasons.