Aggressive promotions from incumbent wireless operators like Airtel has come off in recent months with SIM cards no longer being sold below marked price and the payouts to retailers being brought down significantly. To illustrate with an example on Mobile Plans, in May 2012, a Airtel SIM card being sold at below marked price at a store in Central Mumbai. 6 Months Later, same SIM connection (all offers intact) at the same store being sold at twice the price and
with 16% lower talktime.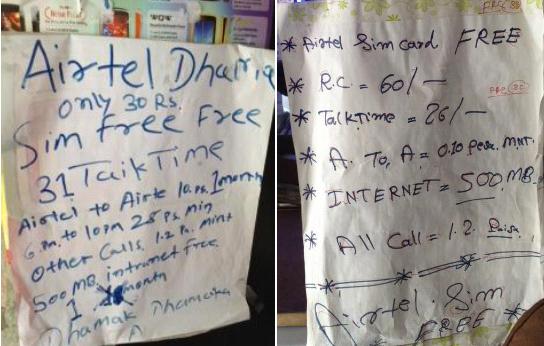 Importantly, low commissions have continued into the seasonally strong Oct-Dec quarter, giving us comfort that these changes are here to stay for the long term. Other retailers/distributors indicate that most of the competitors have also followed Airtel in reducing commissions.
Industry channel checks also indicate that over the past 20 days operators are taking small steps towards pushing up tariffs. Managements at smaller operators (i.e., those outside the top-three) more receptive to the idea of following incumbents if they were to raise tariffs. The channel partners (distributors) expect a tariff hike in the next few months (if not weeks).
One of the key arguments for a tariff hike is the fact that with the industry shifting to a regime of spectrum at market price (rather than 'near free' earlier), the industry will have to bear a high financial burden, which could make it necessary to pass on the burden to customers.
The following Plans / RCVs are introduced / modified by various operators in Last 20 Days suggest that benefits are decreasing for the consumer as Telecom Carriers try to push up their bottom-lines without losing customers to competition.
Airtel is the leader in Andhra Circle and how Competition has responded to Airtel's Moves


Idea Cellular is the leader in Maharashtra Circle and how competition has responded to Idea's Strategy

In other circles, we have seen operators (including Bharti, Idea, Tata) change existing discount vouchers so that a higher rate is applicable on the first minute each day. In the absence of other discount vouchers from the operator, the subscribers will see a step up in monthly outgo if they have to maintain the same level of calling. Telcos are small steps so that they don't lose the customer and yet increase their RPM and ARPU as well seems to be the Mantra for now.