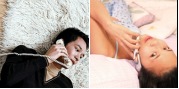 Their is great news for bed time talkers. Idea Cellular Ltd has slashed STD – Long Distance rates on your Idea cell phone during 11PM and 7AM. It will cost Idea user mere 99 Paisa to talk to any other phone in India. For local calls it will be just 49 paisa. This comes at a monthly charge of just Rs46.
This is a serious blow to the arrogant, Bharti Tele-Ventures Ltd India One India Plan (on Mobile) where the monthly rental is as high as Rs299. Idea cellular will find lots of admirers who will opt to stay connected to their loved one for longer time now.
Idea Cellular has also launched its operations in UP(East) covering, 100 towns and villages in the business zones of Lucknow, Kanpur, Allahabad, Varanasi, Gorakhpur and Jhansi.
Tags: Idea Cellular, Telecom India, Mobile India, Phone Chat