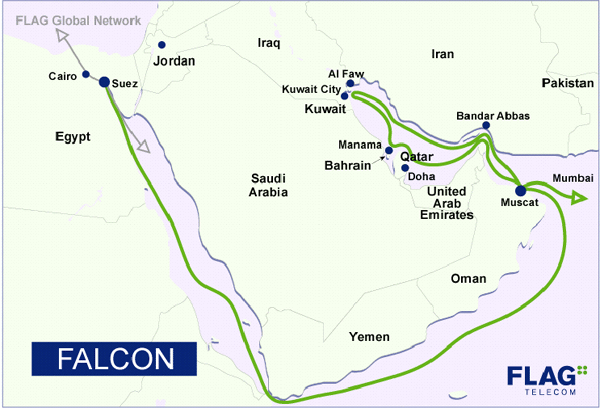 Reliance Communications controlled, Flag Telecom today launched, Falcon. Falcon connects India, Middle East and Europe. It has an initial bandwidth capacity of 90GigaBits which can be scaled to 2.5 TeraBits. Falcon will be further connected to the Flag Global Network which would now become the largest undersea cable system in the world, as Falcon adds 11,589 kms to the existing network of 54,000 kms.
Reliance will very soon join the league of "Emerging Asian Telecom Giants" with global presence. Currently Reliance has significant interests in the lucrative Middle East market as it unveiled RiTV for them in June this year.
In a Related development, It is official now that Prakash Bajpai of Reliance Communications Ltd has told
We are adding 50,000-60,000 buildings (on broadband network) every month and our focus is on connecting buildings in the top business districts. We are initially focusing on commercial enterprises, and focus on households will come a little later. But we are serving houses within business districts
This means that the long wait for consumers hoping to log on to Reliance Broadband is going to take few more months, say atleast 12-18 months. But the web ain't gonna wait. Go with other alternatives, Airtel Broadband or BSNL Broadband.