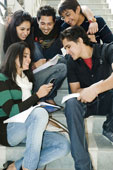 To satiate the minds of our Readers, we are sharing the Market Research on How Indian Consumers Opt for Mobile operators and How they Choose Mobile handsets.
To begin with, What factors matter to customers when choosing a service provider?
88% of all respondents rated Network Coverage and 68% of all respondents rated Network Quality as very important factors. Brand importance scored 54% and 51% of intenders gave high importance to Trustworthy brand. strong>Value Added Services (VAS) data download speeds, handset subsidies not important yet – only 35% of users and 26% of intenders rate VAS as very important.
Who are the preferred service providers among users and potential buyers ?
Among users, as a very good brand overall, Bharti Airtel had the highest rating (65%) followed by Vodafone (48%). On Network Coverage and Network Quality, ratings were highest for Airtel followed by Vodafone. Among potential Buyers, Bharti Airtel again had the highest rating (69%) followed by Idea (43%) as a very good brand overall. Ratings on Network Coverage and Network Quality were similar to the overall rating – Bharti Airtel leads and Idea is next.
What Other important Factors do Indian Consumers Look for Before Choosing Mobile Operator ?
In Descending order of Importance,
Local Call Tariff
Customer Service
Ease of Recharge / Bill Payment
Family & Friends being on Same Network / Peer Recommendation
STD Call Tariff
Billing Accuracy for Calls
Frequent Offers & Promotions
Value Added Services
Data Download Speeds
Interesting finding of the research Circlewise
Vodafone has a strong equity among postpaid users and metro circles. Post-Paid users are just 10% of the overall subscribers here. Idea enjoys a strong equity in A & B circles and among Intenders; however, it has higher-than-average prepaid users and lower-than-average ARPUs. In Circle C, Bharti Airtel is the leader followed by Reliance CDMA.
Only 6% intend for Mobile Number portability while 14% of consumers currently have multiple SIMs with Airtel being the preferred brand. Stay tuned for our next post on what are Indian Consumers' expectations from 3G Service ?