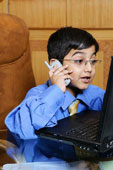 Nokia Siemens Network – NSN has won the contract from Tata Teleservices to build its GSM Network Infrastructure. The value of the contract is said to be around $1 bn. NSN will build, deploy and manage the network for a period of 5 years which include – network planning, project management, network roll-out and systems integration across PAN India.
Recently, Tata Teleservices sold stake to NTT DoCoMo at an exuberant valuation never heard of in the Indian telecom sector and is flush with funds for the proposed GSM rollout. It will be interesting to see how Tata's will bid for the 3G license [in CDMA or GSM ?] Additionally, they also have to bid for WiMax spectrum to keep its Tata Indicom WiMax broadband alive.
Requests to Tata Communications / VSNL broadband division:
It was Mr. Sunil Mittal of Bharti Airtel who first came up with the innovative idea of network infrastructure outsourcing which everybody else including the Tata's have copied. Tata Indicom Broadband division should follow the same model and engage Sprint Nextel the pioneers of Wimax broadband in the US for efficient and better QoS to broadband subscribers.
Why are we saying this ? You can read the difference between Tata WiMax and Sprint Nextel WiMax services.