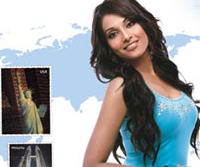 Bipasha Basu, brand ambassador for Anil Ambani's Reliance Communications Ltd has launched calling cards for Indians going abroad under the brand name Reliance Passport.
These calling cards and can be bought at any Reliance World outlet before you fly overseas. [They ask for your Passport though, not sure why, National Security ?]The card can be used to make outgoing calls in the following countries – USA, UK, Canada, Australia, Malaysia and Singapore. However, you can place a call to any country in the world from the above said countries.
Our readers already know that Reliance offers calling card service through Reliance India Call, which is mainly targeted at the Indian diaspora permanently residing outside. Call rates under both the plans are almost the same.
Do let us know about the quality of these calling cards / plans.