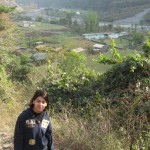 Analysts met head of rural communication agency who holds over a decade of marketing experience across India. He is of the view that going forward it will be challenging for the Telecom companies to push services in rural areas mainly because
penetration of voice services into rural buying power is already high,
growth in disposable rural income is expected to taper over next 12-months, and
monetization of data opportunities could take ~3-5 years to become meaningful
As per TRAI data, wireless tele-density in rural India is ~35% versus ~159% in urban India. However, the agency's feedback indicates that 60-90% of the "buying power" in rural India has already been tapped in terms of mobile ownership. You are also aware that the behavior of rural consumer is towards seeking deals and this will continue to keep voice-ARPUs low. Revenue upside will also be capped by expected tapering of rural income growth over next 12-months due to likely lower farm prices and recent rise in input costs for farm services.
Is their an Opportunity for Rural 3G / Data Services? Outlook for data services in rural India is mixed & it could take ~3-5 years for monetization to become meaningful. On the positive side, the rural consumer is hungry for knowledge / entertainment – and is willing to pay for the same. However, cost of reaching a rural consumer is high and most companies are yet to deepen their data networks. Also, the handset replacement cycle is longer than for urban India and SmartPhones are barely penetrated in these areas.
Airtel is increasing rural penetration & carefully devising ways to tap rural needs while Idea is a step ahead with a strong rural presence along with BSNL.