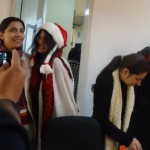 This morning I bumped into RingAd a ringtone based advertisement on the Android Platform. This is currently a small opportunity like the reCaptcha Display Brand Building Ad Network but very innovative idea in the Mobile Advertising Space where both the consumers and brand owners benefit.
What is RingAd Android Advertising App ?
To being with you will need to goto the Android AppStore, search for RingAd Free ReCharge download and install RingAd App on your Android SmartPhone. From now on, ringAd will takeover your Ringtones.
RingAd will download some Ads to your phone using GPRS or 3G Data Connection, whichever you have. So every time you receive a call a new RingAd Ad will play as Ringtone and you get compensated for the same by means of points being accumulated in your account which can be exchanged for free ReCharge currently, but in future they may tie up with other vendors to redeem your points.
What is the Compensation Model for RingAd users ? Shree Bora founder said,
We are looking at two compensation models, one is free recharge and other is discount coupons. So, user earns points by listening ads at each incoming call and can redeem those points at the end of each month in exchange of discount coupons and recharge coupons. Right now 300 points roughly equate to worth Rs. 60
This Works out to 1 Point = 20 Paise.
Does RingAd use lot of my Wireless Data Connectivity ? No RingAd has restricted the maximum Size of ringtone to 500 Kb. So what is the cost of 500 Kb data download to you ? If we assume you get 2 GB of Data usage for Rs 100 [Idea, Airtel currently have these plans] then the cost of downloading the Ringtone for user will be Rs 0.025 or 2.5 Paise + Other Metrics Data. So lets assume cost for you is 4 Paise.
So is the Consumer Winning Listening to Ringtones of RingAd ? Yes! you are earning 20 Paise for every ringtone that is played on your cell while your cost is mere 4 paise as derived above.
RingAd for the Advertiser How does the Platform measure the effectiveness of the Ad and what is the Analytics data the Advertiser gets ? Shree Responded as follows,
We have complete dashboard for advertisers at http://ringad.net/advertiser where advertiser can see analysis like who listened to ad, for how many seconds, user profile etc. We want to give full ROI to advertisers, so we just introduced a new pricing plan, where advertiser can give us discount coupon to distribute to our users instead of paying cash. Hence they can clearly measure the impact of our ad. Blog post about the new pricing plan is here
Finally, we have some suggestions for the team,
Allow customizations in the RingAd App so that consumer can over-rule Ringtone in certain cases or Deactivate the same
Once the network grows, allow user to select verticals from which they like their Ads to be played from
If a consumer likes the Ad, he could press some particular key like * which can answer the call as well as send a message to the Advertiser that user would like to engage.
Integrate this with LBS or LBS Apps to make it more effective for Advertisers