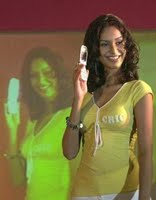 GSM mobile subscribers net adds were 10.3Mn in Oct-09 vs. 8.6MM in Sep-09 (excluding RCOM, Tata DoCoMo), up 20% M/M. The net add numbers saw broad-based increase with ~50% increase in net adds for Vodafone and Aircel (except BSNL that declined ~50%).
Vodafone India

net adds increased 51% to

3Mn, a sharp rise after

decreasing for seven months in a row

Bharti Airtel's

net adds in Oct were up 7% M/M at

2.7Mn

(vs. 2.5Mn Sep-09) with the total subscriber base reaching 113+Mn.

Aircel

net adds at

2.0Mn

increased 54%M/M from 1.3MM in Sep-09. The company has informed us that it has set 50 Million Customer Target by 2010.

BSNL net adds decreased 54% M/M

, as the company added

0.6Mn

in Oct- 09 vs. 1.3Mn/1.4Mn in Sep-09/Aug-09.

Idea Cellular

net adds increased to

1.9Mn

up 36% M/M; from 1.4MM in Sep-09
We expect RCOM to gain share from October with its new plan and net-adds for RCOM to move up.