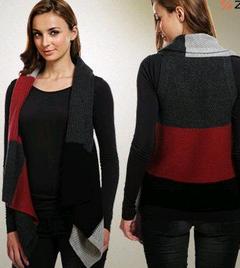 If their is one company that Google saw as a Threat to its revenue turf, is Amazon, eBay second in line, both big buyers of its advertisement for Product Listings. Mid 2012, Google announced that Google Product Search would be transitioned to a paid model built on Product Listing Ads (PLA), which would be called Google Shopping. In mid October, Google completed the transition in the US, and is now working on the transition globally in UK, Germany, France, Japan, Italy, Spain, Netherlands, Brazil, Australia and Switzerland. Google has over 1 billion products from tens of thousands of merchants from and over 100,000 sellers.
Google Product Search advertising provided through PLAs provides a better search experience. The shift to PLAs is consistent with Google's desire to dig deeper in the search funnel and provide entity level (detailed) results right on Google's pages, versus providing links to other sites. It also wants to Provide a better mobile experience (fewer links, better information) to better compete with branded eCommerce apps such as Amazon and eBay.
The rankings for PLAs were based on a separate auction than for AdWords, and were based on a combination of relevance and bid price, so merchants had some control over how prominently their products appeared. This hybrid format enabled Google to test PLAs last holiday, and obviously the company decided these ads were effective (higher paid clicks, but likely lower CPCs vs AdWords). The following Screenshot Shows the New Format of Adwords Ads and Google Product Listing Ads Ad Words Ads appear on top of search results page in Beige / Cream Color Background.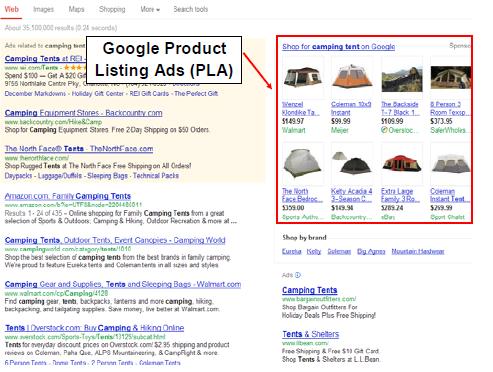 The new Google Product Listing Ads (PLA) have much larger screen space on search results pages, and feature larger sponsored product ads with more information and larger images. Some products and retailers still appear for free in organic Google searches, but the space allocated for organic results has declined to roughly 25% of the page. Google is using the technology that powers its Knowledge Graph to provide better answers with Google shopping.
What is Google's Goal in the New Transition ?
Google's goal is to reduce the number of steps from search to transaction, making the online experience better for consumers (more competitive with Amazon and eBay) and providing very qualified leads (high conversion) to marketers. This will be especially important on mobile devices where Google faces competition with apps and users want a simple, 2-3 touch purchase experience.
SEM Agencies have been reporting mixed experience with PLAs, definitely with an Overall Positive Bias. The longterm revenue uplift opportunity for Google Product Search advertising should add more dollars to the coffer, which was so far un-monetized. However, the challenge before Google is to tread the water carefully without cannibalizing the AdWords revenue turf and still gain on the PLA Ads.