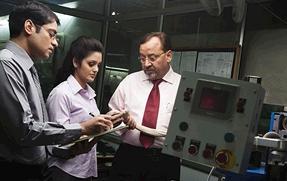 IndiaMART began as a web services company in the mid-1990s. It started offering a standardised web design service to SMEs at a lower price point to differentiate itself in a crowded marketplace. Its template-based approach reduced the time taken to develop professional-looking websites, leading to its services gaining traction. Subsequently, the company used its client relationships to start a directory service for clients, which has now become the foundation stone of the website.
B2B Classifieds – IndiaMART is a classifieds website that charges on a per-listing basis. Banner advertisements and sponsored listings are also a source of revenue. To mine its clients better and improve ROI, IndiaMART is increasing focus on a pay-per-lead revenue model.
Revenue Model:A free membership gives them a basic website on indiamart.com domain, a directory/product listing alongside their peers in the industry. After experiencing the benefits of free membership on IndiaMART, they can achieve greater business growth by upgrading to one or more of our paid services. These paid services provide more comprehensive/advanced web catalogues, priority positioning in our supplier directory / product catalogue. They have a few hundred customers paying US$4,000 a year, less than 12 customers pay more than US$25,000 a year. The majority, however, would be closer to US$1000 a year.
IndiaMart Value Added Services:Customers are offered TrustSEAL wherein they verify the credentials of our members with CRISIL. These suppliers are awarded a TrustSEAL logo that appears alongside their listing on IndiaMART.
SME Customer Base of India:Today, out of over 1 million listed suppliers, 45,000 are paid customers. Customer base comprises both manufacturing and services industries. Product-led industries form the largest category. They doubled this number last year and are targeting to double it again this year. Indian SMEs segment presents a huge market for us. As per various reputed sources, there are about 26m SMEs or MSMEs in India. These include businesses such as kirana shops too.
Transaction Based B2B:The fundamental difference between the two is the nature of trade – the quantity and price are on the high end in B2B. Both, buyer and supplier need to connect with each other several times to negotiate payment terms, customisation, and delivery options etc. It becomes difficult to directly purchase items in bulk from the website.
IndiaMart has more than 100 offices and ~4,500 employees, IndiaMART is India's largest B2B ecommerce company. However, competition in this space is increasing owing to the entry in India of Alibaba.com (the world's largest B2B e-commerce company), aggressive expansion by local search engines such as Justdial, and increased focus by Google. IndiaMart has 65% of customers are repeat customers and revenue of USD 25 Mn in FY 2011.