MakeMyTrip has successfully listed on the NASDAQ after being 10 years in the Online Business Space. Here is a peek into its Business Model and an Analysis on the same. The company is encashing on consumers conducting travel searches is the second-most popular Internet activity in India (84% of online users search for travel products), after e-mail
MakeMyTrip is the largest online travel portal in India based on gross bookings (US$466m in FY10). Online air ticket bookings for domestic, outbound, and inbound segments: 77% of revenues. Hotel bookings and packaged tours: 20% of revenues. Rail and car bookings: 3% of revenues. Highest gross bookings among online travel operators.
Averages ~1.7m visitors/month. Has a dominant market share of 48% of online travel bookings through OTAs in India. Large network of ~4,000 hotels and ~2,000 travel agents in 250 cities across India. Reported revenues of US$40.3m and net profit of US$1.5m in FY10 (excluding employee stock options charge of US$6.8m). Their well designed homepage helps them cross-sell and build brands for travel and related services.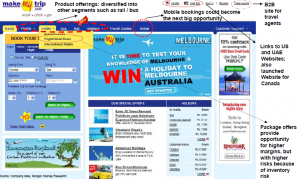 MakeMyTrip Branding – has launched innovations, such as weekend breaks and packaged trips, to help convert users to book travel
online. It has positioned itself as not just a travel portal but a complete end-to-end holiday / travel consultant. It is the First online travel agency brand to be selected as a 'Superbrand' in India for 2009-10.
Online Travel Market Share in India:
MakeMyTrip – 48%
Yatra – 24%
Cleartrip – 18%
Others – 10%
Key Points in the Business Model:
On Air Bookings the company gets 3% commission on gross fare net of PSF with Rs 50 to Rs 100 as service fee from the customer
MMYT generates the majority of hotel and package revenue through its call centers and travel stores. Although only around 5% of transactions are executed through call centers and travel stores, revenues from these transactions account for around 20% of the total.
Direct link between hotels' central reservation systems and MMYT's booking system
Revenues from other businesses include fees from travel insurance companies, advertising revenues, and new service offerings.
The net revenue margin in the hotel business to decline from 14% in FY10 to 13% in FY13e, which is conservative when compared with an increase from 8.9% in FY08 to 14% in FY10
MMYT's focus is to expand its high-margin hotel business, especially high-value international travel packages.
Launched Websites for UAE and Canada
The company is looking for selective merger and acquisition opportunities to boost presence in its targeted overseas market.
Acquired ticketvala.com to move into bus seat bookings.
Quite a lot of developments for the company.