We give a IJW – It Just Works rating for Customized home page of Yahoo. After having tried lots of ways to engage users on the Yahoo platform, finally they have found a way. Yahoo, neither had a browser nor killer Web 2.0 Applications / social network to keep its e-mail customers sticking to its platform. The new CEO had a complete change in strategy – getting rid of businesses where it is not possible to make money and focus on focus on embracing Web 2.0 and AJAX technologies and let users do what they want, but on Yahoo! platform.
They popped a window to me and asked if I wanted to add my favorite feeds to Yahoo! homepage and I did and that of GoBroadband and screen shot is as below.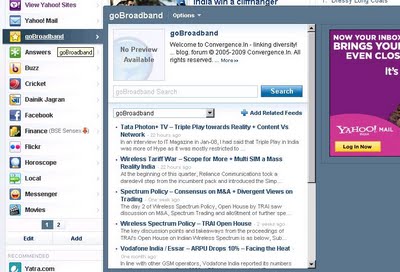 The pane can be customized for you to view Text, Description, Images of your favorite feeds. What I really liked is, I didn't give the correct feed address, but it was smart enough to pick it up 🙂
Additionally, within the same pane, you can also read your e-mails and do whatever you like to do. Yahoo! just displays an Ad next to the area where you are working. In a way of speaking, the GUI appeal and ability to work is better than Google's Customized homepage with gadgets etc. I am pretty sure this must have boosted page views as well as user engagement time on the Yahoo platform.