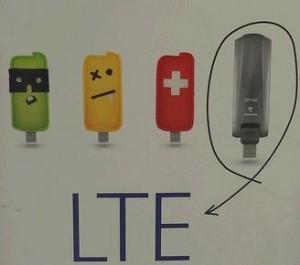 Qualcomm India which is partner with Bharti Airtel for rolling out BWA / LTE Services hosted a conference in Delhi on Oct 16th. Find the key takeaways from the conference.
3G Update Increasing Despite 3G subscribers being less than 3% of the India wireless subscribers base, web traffic on cellular data in India has surpassed traffic on desktops. Qualcomm India CEO expects smartphones sales in India to increase from 11 mn in 2011 to 20mn/25mn/100mn respectively in 2012E/2013E/2015E respectively led by declining smartphone prices.
Huawei Launches World's first TD-LTE smartphone at the Event Huawei launched TD-LTE smartphone working on 2.3GHz (India band). The phone is powered by 1.5 GHz MSM 8960 dual-core processor and has 4 GB internal memory, 1 GB of RAM. At the estimated (GS est.) price of Rs 30,000 (US$ 545). Expect the product to remain niche and is unlikely to gain any traction for Airtel 4G – the only operator to have launched TD-LTE right now.
Reliance Infotel Broadband Building Own PAN India Fiber Network Reliance Infotel the only Indian operator to have a pan Indian LTE license was conspicuous by its absence for a second year in a row at the Qualcomm India LTE Conference. Vendors and industry participants indicated that Reliance Industries Ltd is looking at 2013 for its launch of LTE in select cities. Reliance Infotel of Mukesh Ambani is building out its fiber network but clarity on its tower buildout remains unclear
VoLTE Not Until 2015 Qualcomm engineers indicated that VO-LTE (Voice over LTE) will only be commercially launched after 2015 – implying that any 4G data-only operator interested in offering voice needs to acquire 2G spectrum or sign Inter-circle-roaming agreements with existing 2G operators.
EDGE SmartPhones in India In the concluding session, handset makers were of the opinion that, the US$40 China-made EDGE smartphones are not yet gaining traction in India as unlike China, these phones fall in the "replacement" bracket in India rather than the "entry level" bracket. In this segment, consumers prefer a branded phone. However, handset makers think that this segment will grow materially in coming months given the increasing price differential between EDGE /WCDMA smartphone and 2G/3G data tariffs.