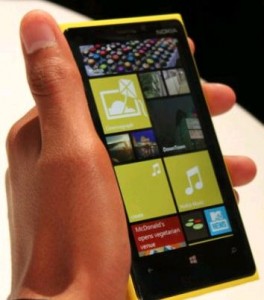 Nokia announced two new Windows 8 based smartphones. The new phones were largely as expected in terms of design and feature sets. On balance we like the new phones and features, but note that at 185 grams the Lumia 920 is 35% heavier than its key competitors, and few devices of that weight have ever proven big sales successes.
Windows Phone 8 still seems at risk of some delays that could result in a weaker-than-expected inventory restocking for Nokia in Q4 and there were no break-through innovations presented with the new phones.
How Nokia is Planning to Market Windows 8 Lumia Series ?
Nokia has to give retailers three or four key selling points where the Lumia phones can trump any rival. For the Lumia 920 these selling points appear to be – the world's best still camera and video [PureView], the world's best location-based services platform, access to the Windows ecosystem of applications.
The Lumia 820 lacks the camera advantages of the 920 and will thus likely have to compete more on a price performance basis. The above advantages should be easy for a retailer to push in terms of the 920, thus boosting the prospect of driving good sales growth. However, it is possible that the 920's camera advantages are surpassed by the iPhone 5. Design is a subjective matter and the iPhone 5 and new Android phones may trump the Lumia's design very easily though Microsoft's Metro Style UI is a new experience.
Navigation Wars on iPhone / Android / Windows 8 Mobiles
Apple is transitioning to its own navigation platform with iOS 6 and (based on Siri, iCloud, and other Apple service launches). Nokia's on-board solution may struggle to compete even though its solution seems superior. Our view is based on the fact that Google Maps has become the default digital map for most consumers
Windows Phone 8 SDK launch delayed
The biggest concern on the Microsoft side is that the SDK (software developer kit) has yet to launch. This means that developers are unable to build apps on Windows Phone 8's new capabilities. It is expected to launch only in October thus Apps eco-system will take a time to develop.
Pricing of Nokia Lumia Phones
The lack of visibility when it comes to pricing also helped to continue the uncertainty as to when Nokia will finally have a device portfolio on Windows Phone 8 that is capable of pulling it out of its slump, attention will now begin to focus on the numbers once again.
Microsoft CEO Steve Ballmer said that 400 million devices (PCs, laptops, tablets and phones) running on Windows 8 core will be sold over the next year seems reasonable and should provide a compelling market opportunity for developers. This will help Microsoft develop a vibrant eco-system in our view and the chances of Nokia becoming the King Maker in Mobile Devices & SmartPhone market has started fading.