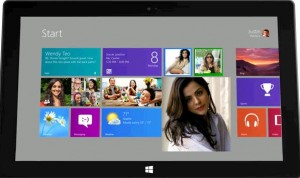 Microsoft yesterday unveiled that it will very soon launch its own Tablet branded as Surface running on Windows RT and Windows 8. Windows RT tablet will include Microsoft Office and a full keyboard embedded in a thin touch cover [Consumers using office productivity Suite on Tablets is less than 20%, this means Microsoft's Target Market is once again Corporates / SMEs] Nonetheless, we appreciate Microsoft's Braveheart strategy to enter the Tablet Market with Product differentiation.
Hardware Powering Windows Surface Tablet
Microsoft's Windows RT tablet is based on Nvidia's Tegra processor [ARM Core], which is expected to launch at the same time as Windows RT version. Windows RT Surface has similar thickness as iPad (9.3mm/1.5lbs vs. 9.4mm/1.4lbs for the iPad), but with a full function keyboard that is embedded in the touch cover. The 3mm Touch Cover enables users to touch type significantly faster than with an on-screen keyboard. Users can also click in a 5mm-thin type cover that adds moving keys for a more traditional typing feel.
A separate x86 version with Windows 8 Pro will use Intel's Core i5 Ivy Bridge CPU, which is expected to be launched 90 days later. The Intel-based device will be targeted more in the Ultrabook-touch price range (~US$799-899).
Hardware Winners Rely on Supply Chain
It is well known fact that Apple is winning for its cutting edge design and Hardware Supply chain to maximize its operating profit margins. Samsung and LGD are the major suppliers for Surface Display. Battery is likely to be Powered by LG. Microsoft will use G1F solutions for Windows Surface tablets, Youngfast and TPK would be the major suppliers in Taiwan. Memory to be sourced from Samsung, Hynix /Micron. Storage from Samsung or Sandisk.
Windows RT is expected to sell around 4 Million Pieces in 2012 based on channel checks with Hardware Suppliers. Taking a leaf out of Apple's Corporate Mantra, Microsoft's Windows RT Surface Tablet is likely to be priced around $400 to $500.
The following Chart Shows Hardware Specification Comparison of Various Versions of Microsoft / Asus Manufactured Windows Surface Tablets